DPD Productions

Makers of the...

"TrainTenna"

RR Band Antennas
Welcome to the ELGIN, JOLIET & EASTERN Railroad Archive
Subscribe to the EJ&E E-mail List
The EJ&E email list has over 800 members, including fans and ex employees alike. Join in the fun and signup to talk about our favorite railroad.
EJ&E Photo Upload Area!
In light of recent events, I wanted to make it as easy as possible for people who'd like to help document the EJ&E during the end. I welcome anyone who likes to photograph the EJ&E to register on the new upload area I've setup here and save their photos there. These photos will eventually be put on this site under the credit of each photographer. PLEASE follow all the instructions on the front page when uploading. Thanks.
New EJ&E Archive and Chicagoland Railfan Chat!
A new page has been created for people who would like to chat about the EJ&E and/or Chicagoland railfan activities. Feel free to post heads-up notices for trains, chat with your friends by mobile device while fanning, or setup a regular meet. There's also a list of Chicagoland railroad radio streams.

Looking for Employee Records?
The railroad is unable to search for past employee records. You may be able to find some help at the US Railroad Retirement Board site at: http://www.rrb.gov/default.asp The the Will County Historical Society also has some original EJ&E employee records dating back to the 1880's. Their site is at: http://willcountyhistoricalsociety.org/ And lastly, there is the: Will County Genealogical Site at: http://will.ilgenweb.org/
The "EJ&E Archive" site is in no way directly affiliated with the Elgin, Joliet & Eastern Railway Co., Transtar Inc., US Steel Corp., or the Canadian National Railway Company. All original content on this site is Copyright ©2013 the EJ&E Archive - Email:
dave@ejearchive.com
New Elgin, Joliet & Eastern Books!
A three volume set of books is being published by Morning Sun and written by John Eagan. Volume One focuses on the Eastern Subdivision, and has already been released. It can still be purchased directly from John on his eBay page or from the Morning Sun site. Volume Two focuses on the Western Subdivision and was released in late 2014. That can be purchased on John's eBay page. Volume Three is due out in 2015.
"Elgin, Joliet & Eastern in Color - Vol 1"
By John Eagan


"Elgin, Joliet & Eastern in Color - Vol 2"
By John Eagan
Latest News
- 1/31/2009 - The Last Day -

The Elgin, Joliet & Eastern Railway officially ceased to exist January 31st, 2009, at 11:59 PM. At midnight, February 1st, the line became Canadian National property. Over 120 years of history went out with a whisper. There were no special trains or ceremonies... Just business as usual.
Goodbye 'J', we'll miss you...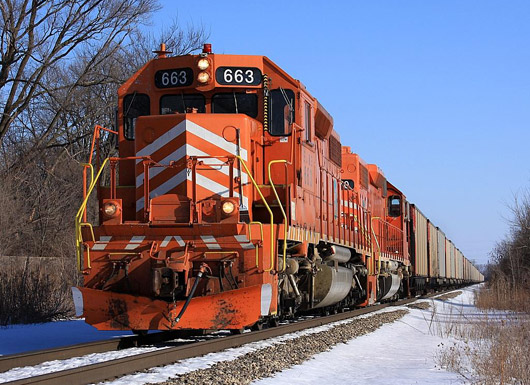 The Last EJ&E Stateline Coal Train heads West on the Eastern Sub 1/31/09 by Bill Grenchik
- 12/24/2008 - It Was a Good Fight, but Not Quite Enough

STB Approves CN's Acquisition of Eligin, Joliet & Eastern Ry.

The Surface Transportation Board today unanimously approved the Canadian National Railway Company and Grand Trunk Corporation application to acquire control of the Elgin, Joliet & Eastern Railway Company (EJ&E), subject to a number of Board-imposed conditions.
In announcing the decision, Board Chairman Charles D. Nottingham stated:
"Approval of this important railroad merger, with the conditions we have imposed, marks a significant step forward in our nation's efforts to alleviate rail and highway congestion. I am pleased that the Board agreed, in a bipartisan and unanimous manner, after an unprecedented public involvement process, to grant the relief that this merger will provide to the many Chicago neighborhoods that have been disproportionately burdened for many decades with severe rail traffic-related roadway congestion."
In reaching its decision, the Board considered both the transportation-related aspects of the transaction and the potential environmental impacts. In considering the transportation aspects, the Board found that the transaction will not result in a substantial lessening of competition, the creation of a monopoly, or a restraint of trade in freight surface transportation in any region of the United States. The Board also found that any minor anticompetitive effects that may result will be outweighed by the overall transportation benefits of the transaction.
In considering the environmental aspects of the transaction, the Board found that, although the transaction will result in environmental benefits to those living in and near Chicago, it will have adverse environmental impacts on communities along the EJ&E rail line. The Board undertook an extensive evaluation of the environmental aspects of the applicants' proposal, hosting 22 public meetings over an 8-month period in the Chicago area. A Draft Environment Impact Statement (DEIS) was issued and widely circulated in that region, and the Board received more than 9,500 public comments in response to the DEIS. The Board issued a Final Environmental Impact Statement on December 5, 2008.
After carefully considering the results of the environmental analysis and the comments raised—both pro and con—the Board imposed substantial environmental mitigation to minimize potential adverse environmental impacts of the transaction. The mitigation includes:
Two highway-rail grade separation projects (and requires applicants to bear 67 percent of the cost of one and 78.5 percent of the cost of the other);

Cameras to monitor highway-rail crossings to assist in the timely response of emergency providers;

School and pedestrian safety measures;

Noise reduction measures; and

A 5-year environmental reporting requirement mandating applicants to file quarterly reports on the implementation of the Board-imposed environmental mitigation.
In addition, the Board imposed a 5-year, formal oversight period, with applicants required to submit monthly operational reports to the Board. Finally, the Board's decision also requires applicants to comply with mandatory labor protection, with their extensive voluntary environmental mitigation, and with the negotiated agreements that they have entered into with Amtrak and communities in Illinois and Indiana containing tailored mitigation that applicants have agreed to provide.
Chairman Nottingham added: "I commend the approximately 10,000 citizens who submitted comments to the Board, and I thank the Board's dedicated environmental and legal staff, for ensuring that this decision was made in an informed, balanced and expeditious manner.
"The Board issued its decision approving, with conditions, the applicants' acquisition of EJ&E today, December 24, 2008, in Canadian National Ry. and Grand Trunk Corp.—Control—EJ&E West Co., STB Finance Docket No. 35087. That decision will be published in the Federal Register and is available for viewing and downloading on the Board's Web site at http://www.stb.dot.gov, under "E-LIBRARY" on the home page, then under "Decisions & Notices," beneath the date "12/24/08."
- 2/25/2008 - Help Save Grasselli Tower -


The Hoosier Valley Railroad Museum is attempting to save Grasselli interlocking tower and move it to HVRM's museum site in North Judson, Indiana. The tower was recently deactivated in 2007. Located in East Chicago, the tower use to control the interlocking for the IHB, EJ&E and at one time, the B&O Chicago Terminal as well. To get more information on how the effort is progressing and how you can help, go to:
www.grassellitower.com
- 9/26/2007 - The Rumor to End All Rumors -
After suffering decades of buyout rumors, it looks like one rumor has finally found its mark. I was going to post a long, heartfelt, political rant about this, but decided against it... EJ&E fans know how they feel about this, and nothing I could say would ever do justice to that. I imagine we'll all have to suffer the "I told you so" posts on the rail forums, from all the self proclaimed experts that said this was coming. If you say something will happen enough times, I guess it will come true eventually. I'm sure we'll all hold out hope for a miracle, but past history shows us that the miracle rarely comes. The EJ&E's flag is now at half mast and most likely due to be lowered. Yet another great railroad in a long list of railroads is about to die... and with it... a little more of our heritage.
----------------------------
- CN Press Release -
CN to Acquire Key Operations of Elgin, Joliet and Eastern Railway for $300 Million
MONTREAL, QUEBEC and PITTSBURGH, PENNSYLVANIA--(Marketwire - Sept. 26, 2007) - Canadian National Railway Company and United States Steel Corporation announced today that their respective Boards of Directors have approved an agreement under which CN will acquire the major portion of the Elgin, Joliet and Eastern Railway Company (EJ&E) for $300 million (approximately C$301 million). The acquisition will significantly improve the fluidity of CN's rail operations in the Chicago region, rewarding customers with faster transit times and more reliable service. Under the agreement, U. S. Steel's Transtar subsidiary will retain railroad assets, equipment, and employees that support the Gary Works site in Northwest Indiana and the steelmaking operations of U. S. Steel. Transtar's remaining operations will become the Gary Railway.
The acquisition is subject to regulatory review by the U.S. Surface Transportation Board (STB). Both CN and U. S. Steel believe that if the application is approved by the STB as filed, it should allow closing in mid-2008.
EJ&E, a Class II railroad, operates over 198 main line miles of track encircling the City of Chicago from Waukegan, Ill., on the north, to Joliet, Ill., on the west, to Gary, Ind., on the southeast, and then to South Chicago.
CN President and Chief Executive Officer E. Hunter Harrison said: "This acquisition is good news for railroading in Chicago. Chicago is essential to CN's rail operations, yet it presents us with major operational challenges. This transaction will improve rail operations on the CN system and the rest of the Chicago rail network by moving CN trains out of the urban core to EJ&E lines on the outskirts of the Chicago metropolitan area."
U. S. Steel Chairman and Chief Executive Officer John P. Surma said: "This transaction is positive for all involved. Our EJ&E employees and customers, and the communities in which we operate will benefit from the EJ&E being part of a large Class I railroad, while U. S. Steel will be able to focus on the railroad assets serving Gary Works."
Harrison said: "This acquisition not only will give CN an opportunity to expand its service to the North American steel industry, but also will drive new efficiencies and operating improvements on CN's network. Streamlined rail operations and reduced congestion resulting from this acquisition will benefit current CN and EJ&E customers, the City of Chicago, nearby communities, and the overall rail network in the region."
CN plans to invest approximately US$100 million for integration, new connections, and infrastructure improvements to add capacity on the EJ&E line and allow network synergies to be realized over time. The acquisition, which will be financed with debt and cash-on-hand, is expected to be slightly accretive to CN's diluted earnings per share in the first year following STB approval.
The combination of the two rail networks is straightforward and will allow EJ&E's existing traffic to be moved more efficiently and at lower cost. There are no shippers served only by CN and EJ&E (2-to-1 shippers) who will lose direct rail competition as a result of the acquisition, nor will there be any other adverse impacts on competition. As in past transactions, CN is committed to keeping gateways open and honoring trackage rights agreements with all connecting carriers.
Gordon T. Trafton, CN's Senior Vice-President, Southern Region, said: "This acquisition will bring EJ&E's experienced railroaders into the CN family and will bridge what has been the missing link to connect the Eastern, Western, and Southern regions of CN's network. We will apply our proven business model in implementing this acquisition using the measured, step-by-step approach we have employed in our previous transactions to flawlessly integrate these operations."
- 6/29/2007 - All New Look for EJ&E Switcher -


Mike Janke surprised EJ&E fans when he photographed the J's SW1001 #446 sitting outside WSOR's Horicon paint shop, in this all new yellow and red scheme. #446 was originally on the Lake Terminal Ry. It had worked on the EJ&E in the old LT paint scheme for a number of years. The unit was recently refurbished by the EJ&E shops, and Edward Weisensel had also photographed #446 as it arrived to Horicon for paint. The assumption was that the unit would receive the usual EJ&E green switcher scheme... but out came the yellow & red instead. USS apparently wants to have all switchers painted in this scheme from now on.
- 5/12/2007 - New Track for Shearson Line -

It was discovered that the Shearson Line will apparently be receiving a fairly major upgrade soon... Ribbon-rail was spotted laying alongside the RoW. Speculation is that the BP oil refinery on the line will be eventually be producing more traffic, due to a switch to canadian crude oil.
- 1/31/2007 - The 'Voice of the J' Retires -

Anyone who's ever listened to EJ&E radio easily recognizes the familiar voice of Dispatcher "BK". His witty dispatching style is completely unique in the railroad world. BK retires this month after many years of dedicated service on the J. Good luck in your new life BK... The radio just won't sound the same without you.
- 12/3/2006 - Happy Retirement to Dan McKee! -

EJ&E Security Officer Dan McKee will be retiring this month... Good luck in the future Dan, and thanks for helping to keep the railroad safe all those years.
- 7/23/2006 - Visit Walt's Hobby & Model Shop! -

Due to some road construction in the area, Walt's Hobby & Model Shop, a mainstay in the area for decades, has had a bit of a slow down in business. Show your support for this local shop... They always have plenty of EJ&E & GM&O items in stock. They are located at: 2207 Plainfield Rd., Crest Hill, IL (Right next to Joliet) Phone: (815) 741-0043
- 3/3/2006 - Happy Retirement to C. Collins! -

After 38 years on the railroad, Electrician/MoW Supervisor C. Collins is retiring. Congratulations Mr. Collins, and good luck with the start of your new life.
- 8/1/2005 - Sutton Siding Open for Business -

A new 9000' siding has been installed on the Western Sub between Spaulding and Barrington. The siding has already been in use for about a month, and was created to help relieve new traffic, such as the CN bridge trains, and UP coal trains.
- 6/23/2005 - Lake Zurich Shoe-Fly -

The new Rt. 22 bypass that's been planned has finally come to the Railroad. Track crews are building the shoe-fly track around the area where a new bridge for the road will cross under the EJE. A J ballast train is up there as well as numerous hi rail vehicles. The only public road to see it from is Genessee St., but there's a really neat view from Old Rand Road and the LZ Depot. Speed limit will be 10MPH throughout the duration of bridge construction, so there will be nice chances to catch trains at the Depot. Source: Adam R.
- 5/28/2005 - The Ronald McDonald House Passenger Special Runs on the J -

On Saturday, May 28, 2005, there was a special passenger train run by the Ronald McDonald House charity organization, on the EJ&E. Consist for the train was: Amtrak P42 66, and private cars Skykomish River, Montana, Caritas, Pointe St. Charles, Puget Sound, Sierra Hotel, Little Juniata River, Warrior Ridge and Pennsylvania 120. The train left Chicago Union Station at about 7:45 AM. The train entered the J at Rondout, being lead by Amtrak Genesis #66. Once on the EJ&E, the train picked up its EJ&E escort power for the trip, which was #660 & #663. The train reversed to Waukegan, then started RR east again towards Joliet. The train stopped briefly in East Joliet Yard, then continued onto Gary. As it approached Stockton Jct., it ran briefly onto the Lakefront line, then backed up and stopped short of Kirk Yard Jct. The train then came down through Pine Jct., and minus its EJ&E power, entered the NS for its trip back to Chicago Union Station. Source: Mike Blaszak
- 1/15/2005 - New Ohio Central Lease Power -

The EJ&E has leased three SD40-2 units from Ohio Central. The units all have the full OC Maroon and Yellow scheme. They were leased to help out with the Winter taconite trains, and general duties. The OC numbers are 4022, 4023 & 4025, and as of this date, those were the ID's they were sticking with. Look for the triple set to possibly work the BNSF taconite trains from Eola. It's unknown how long the units are expected to stay.
- 12/29/2004 - New IRL Train Added -

A new train designated AXS-1 started operating on the Illinois River Line in October 04. AXS stands for Auxable Switcher. This is a train the runs in addition to the JSW-1/2 that still runs on the IRL. AXS-1 runs Mon-Fri, with a start time in Joliet of 7AM. The train leaves Joliet with about 30 cars, switches Auxable off the IRL, then returns to Joliet.
- 12/8/2004 - Batavia Rd. Gets Gates -

This probably won't mean much to most people, but it does to me... The crossing at Batavia Rd. in Warrenville finally had gates installed today. I grew up near this road when it was just a sleepy crossing, with flashers only... And it stayed that way until today. But that's progress, and probably for the better anyway. Source: Rob
- 5/10/2004 - Passenger Special -

The Chicago Railroad Superintendents Association ran a special train over the EJ&E on May 4th. The train started from Chicago Union Station that morning, then took the St. Charles Air Line to the CN/IC main, which then got them to the EJ&E at Matteson around 11:30 AM, where they picked up their J Pilot. It then went West on the EJ&E to Rondout, where it entered the CP/Metra line around 2:20 PM, and proceeded back to Union Station. The train consisted of: Amtrak Genesis #128, WSOR business car "James M. Gardner", WSOR sleeper-lounge "Notre Dame", Amtrak 53500, 54533, 54556, 54558 and CSX theater car "Georgia". Source: Mike Blaszak
- 2/1/2004 - EJ&E Gons Derailed on NS -

On Sunday Feb 1, around 8:00 AM, an NS train had 23 EJ&E gons loaded with steel slabs derail in Corunna, IN on the former Water Level Line. The derailment started one car back from the power. The cause of the derailment was unknown. The slabs are reportedly salvageable, but at least 20 of the gons will be scrapped.
- 1/22/2004 - Last Days for Old Joliet Locomotive Shops -

This is very sad news to report... It's been discovered that the old Locomotive Shop and attached Round House will probably be torn down within just days of this date. Supposedly, the Power House and Blacksmith Shop won't be far behind. The huge 3 story Locomotive Shop built in 1912, had been occupied for sometime by US Rail, a company that worked on passenger cars. Their E unit was often times parked out in front of the shop building. The ex BN units around the side of the building were also theirs, along with various passenger cars. The equipment has apparently been turned over to the EJ&E for them to dispose of as they see fit. The Locomotive Shop will then be left for the wrecking ball. The small attached Round House on the North end of the building, will also be torn down. This is NOT the main EJ&E Round House that's still in use. The buildings being torn down were sold by the RR in 1990. It had been reported for years that the old Locomotive Shop building had been in quite bad shape. There was a rumor floating around that someone was trying to turn it into a museum. Obviously they were unsuccessful. It's unknown how well documented the buildings have been over the years. Hopefully sufficient photos exist of the structures, since they will soon be the only evidence of what they once looked like. Note... Trespassing of any kind in an attempt to get photos of the buildings before they're gone will not be tolerated by the RR, and is not recommended.
- 10/29/2003 - First Remote Units Arrive -

Remote controlled locomotives have finally arrived on the EJ&E... SW1200 #305 and #311 are the first units to be fitted with remote control equipment. At this time, most of the equipment has been installed in #311, and both units should be working in the Gary Works mills by the end of the year. First a study will have to be conducted in the mills to check the ability of the locos to receive signals from the controllers in the various areas of the mill they will work in.
- 9/30/2003 - Plainfield Depot Reopens -

The old EJ&E Plainfield Depot has been restored and is ready for public viewing. It was moved from its original location on the West Sub main in 1999 by the Plainfield Historical Society, to a new location at Lockport St. and Van Dyke Rd. The depot is available for tours by appointment, and will also be open during certain city events. To make an appointment, call the Plainfield Historical Society at: 815 436 4073.
- 7/1/2003 - EJ&E Cabeese Live On -

EJ&E cabeese have been getting repainted and restored during the month of May. So far, 531 and 539 have both been spotted in Joliet with brand new paint. The paint is a dark orange and includes a stenciled "The J" logo. The 539 in particular also has one of the old style EJ&E logos stenciled on it as well. Caboose 549 has recently been restored for the City of Whiting and will be displayed at their park on 119th St. A dedication for the caboose will be held at the Standard Diamond Baseball Complex in Whiting, on August 23rd at noon. For additional info, contact Whiting Hobbies at 1206 119th street, Whiting, Indiana 46394.
- 6/29/2003 - DPU on the J -

Recently, all Plaines coal trains from the Union Pacific with 135 cars or more have been operating with distributed power units (DPU). EJ&E Engineers were trained for DPU at the Union Pacific's West Chicago training facility. This would mean many Plaines should now have a unit operating on the end of the train.
- 6/27/2003 - New Lease Units -

Two new lease units are being tested on the railroad for about 30 days to see if they will be kept longer... GECX 5987 and GECX 5988. Both are ex Union Pacific SD-60s, and were originally CNW units. Both units continue to wear the UP scheme.
- 5/23/2003 - Apollo Deal Off -

As part of a new labor contract between USS and the United Steel Workers of America, regarding USS's acquisition of the bankrupt National Steel... The original deal for Apollo Management of NY to purchase Minntac and the EJ&E Ry., among other assets, was canceled. For now, USS still owns the EJ&E, with Transtar operating them.
- 5/7/2003 - Barrington Tower Closes -

On the morning of May 4th at 1:45AM, the UP signals were pulled down at Barrington Tower for the last time. The cables to the tower were then cut, and the first train ran through the newly configured interlocking at 9:15AM. The EJ&E will now control the plant from Joliet remotely. The tower has had very little responsibility over the years. The tower will probably remain standing for some time to come. The equipment of value will be donated to IRM.
- 10/16/2002 - USS Signs Letter of Intent to Sell Transtar -
PITTSBURGH, Oct. 16 /PRNewswire-FirstCall/ United States Steel Corporation (NYSE: X - News) announced today that it has signed a letter of intent to sell its Clairton, Pa., and Gary, Ind., coke operations, its Minnesota iron ore operations (Minntac), and its wholly owned transportation services subsidiary Transtar, Inc. (Transtar), to an entity formed by affiliates of Apollo Management, L.P. (Apollo) of New York City. The transaction is subject to the negotiation of definitive agreements and other customary conditions, including approvals from the board of directors, lenders and regulatory agencies. The parties plan to reach definitive agreements by year-end 2002 with closing expected to follow in the first quarter of 2003.
Under terms of the letter of intent, it is anticipated that U. S. Steel would receive approximately $500 million in cash and retain about a 20 percent interest in the new company, with the new company assuming all collective bargaining agreements, certain employee benefit obligations and certain other liabilities. U. S. Steel currently estimates the transaction could result in a pre-tax loss of up to $300 million. The new company and U. S. Steel plan to enter into long-term contracts to supply U. S. Steel with its domestic iron ore and coke requirements and to provide U. S. Steel with transportation services.
U. S. Steel Chairman, CEO and President Thomas J. Usher said, "This sale would enable us to redeploy capital to other potential uses such as strategic acquisition opportunities, debt reduction, or voluntary contributions to employee benefit plans." He added, "This would be an important step in our strategy to focus on growing our higher value-added domestic operations and to continue to expand globally. At the same time, we would secure a stable, long-term supply of our critical raw material requirements at market-based prices and preserve the vital transportation services provided through Transtar. "We believe the sale of these assets would be in the best interests of all of our stakeholders. We are also pleased to participate as a minority equity owner with Apollo in the growth of these excellent businesses in the years ahead."
Charles C. (Chuck) Gedeon, currently executive vice president-raw materials for U. S. Steel, would leave U. S. Steel to lead the new company. Gedeon, who started in the steel industry as a laborer, has more than 40 years of experience covering virtually every aspect of the steel making process. He has been responsible for the raw materials operations since he joined U. S. Steel in 1986. Operating managers and employees of Clairton Works, Gary Coke, Minntac and Transtar would also join the new company.
Josh Harris, a founding partner of Apollo, said, "We are extremely pleased to be partnering with the domestic industry's premier steel producer and excited about the growth prospects for the new company. The leadership of Chuck Gedeon, the experienced management team and the corps of dedicated employees at these facilities are a strong formula for success." Apollo, formed in 1990, is a private equity fund based in New York. Since its inception, Apollo and its affiliates have managed the investment of over $13 billion in capital in a wide variety of industries. Clairton Works and Gary Coke operations are both ISO 14001 certified and are leaders in environmental stewardship. Clairton Works employs about 1,500 people and is the country's largest coke producer, with an annual capacity of 4.6 million net tons. Gary Coke operations, with approximately 550 employees, has an annual capacity of 2.1 million net tons. Minntac, U. S. Steel's taconite mining operations in Mt. Iron, Minn., mines iron-bearing taconite and converts it into high-iron content pellets in a process called beneficiation. With an annual production capacity of 16.4 million net tons, Minntac is the largest producer of taconite pellets in North America and employs about 1,550 people. At the end of 2001, U. S. Steel had 695 million net tons of iron ore reserves, all of which were and would continue to be assigned to Minntac.
Transtar owns several rail lines, a barge line and a number of transportation-related entities and has approximately 1,700 employees. All of Transtar's direct and indirect operating subsidiaries would be included in the proposed transaction, except Transtar Logistics, LLC, which provides transportation management services to U. S. Steel and third parties. The operations to be sold include the Birmingham Southern Railroad Company and its subsidiary Fairfield Southern Company, Inc.; the Elgin, Joliet and Eastern Railway Company; the Lake Terminal Railroad Company; the McKeesport Connecting Railroad Company; the Union Railroad Company; the Warrior & Gulf Navigation Company and its subsidiary, the Mobile River Terminal Company, Inc.; and Tracks, Traffic and Management Services, Inc.
Consummation of the transaction described above and the anticipated financial impact on U. S. Steel are forward-looking statements which are based on a number of assumptions concerning future events made by management and information currently available to management. This release lists many but not all of the factors that would determine whether the transaction is consummated and the timing of any closing. Many of these factors, such as regulatory approval and the ability of the new company to obtain financing are beyond the control of U. S. Steel. Investors and other readers are cautioned not to put undue reliance on such forward-looking statements. In accordance with "safe harbor" provisions of the Private Securities Litigation Reform Act of 1995, cautionary statements identifying important factors, but not necessarily all factors, that could cause actual results to differ materially from those set forth in the forward-looking statements have been included in the Form 10-K of U. S. Steel for the year ended December 31, 2001, and in subsequent filings for U. S. Steel.
- 5/31/2002 - Power News -


SD38-2 #659 is in pieces at the Gary Shops right now, undergoing the dash 3 rebuild. It's due out in July. Switcher #305 is also in the shops undergoing a major overhaul, so it would appear that it's going to be around for sometime. Painting has been handled lately by the Wisconsin Southern's shops. It is presumed that 305 will get the proper dark green paint this time, and not the "lime green" color some other switchers received in the past. Ex DM&IR SDM #804 is sporting a fairly large American flag on its nose now as well.
In other power news, its been reported that many of the Gary Mill switch jobs that the J handles, may be going to remote control in the future. This would be a significant loss of jobs for the crews. This is still all in the beginning stages though. Negotiations are still ongoing over remote loco issues in general, with the unions. It apparently costs approximately $100, 000 per unit to equip them with a remote system. The USS Gary Works inner railroad (the C Line Express) already runs remotes on these jobs: No. 13, 1 for the Q-Bop, 1 for No. 1 Bop Shop, 1 for another High Line West of the No. 1 Bop Shop, 1 for the Skull Cracker at the North end of the mill, and 1 for Tube City. Source: Neal & Brian
- 5/6/2002 - Ex Union RR/B&LE Units in Service -

The ex URR/B&LE, now EJ&E 672, has made its appearance out of the Kirk Yard shops. The ex URR/B&LE, now EJ&E 671, made its appearance about a month or two ago. Three more ex URR/B&LE units are on the storage track at the Kirk Yard pit. In other news, the EJ&E 660 blew its motor the other day... Seems it threw a couple of rods. It will take its place in line early for the Dash 3 upgrade now. It is also one of our engines equipped with the video camera. Source: Neal
- 11/17/2001 - Status on the Railroad -

USX has No. 6 down for a month. They are talking about shutting down No. 4 also due to slow biz. In the Tin Mill, the Galvanizer (Pickle) will be shut down permanently some time soon in 2002.
An unknown company was out in Kirk Yard in November making detailed inspections of EJ&E gons in the West and D&R yard. This company will buy the gons and lease them to the EJ&E. It is unknown if the lettering will change to the new company for leasing.
Still the oil biz. is still slow for the EJ&E and Whiting. All the tank cars are still in storage in the West yard and recently more tank cars set out in Pine yard for room.
In Joliet, the yard is plugged with Equistar cars and no room for switching. There was some talk that the Relco engines in storage in Joliet might be moved on the Rock Island to Senica in order to free up some space for switching crews. Source: Brian
- 10/22/2001 - Eco-Friendly Engines -


While the J SD38-2s slowly get rebuilt into the -3 standard, there's some unique equipment being added to them at the same time... Equipment that makes them easier on the environment, and in particular, the environmentally protected Romeoville Branch that services the Will County Power Plant. This line has special rules of operation to protect the wetlands it runs through. The line is nicknamed the "Bug Line" by J crews, because of a certain species of dragon fly that's protected in the area. Up until recently, the only engines that could pull trains on the line, were the specially equipped SD9s (Bug Engines) that had drip pans and other devices to help protect the area. As the SD38-2s get rebuilt into -3 standards, they will also get this equipment, allowing them to run on the Romeoville Branch as well. Neal explains..
"While the engines are in for dash 3 re-fit, they are being totally re-piped to become environmentally safe. So there will be a very minimal amount of any oil or grease droppings from them. BTW, they are also being totally re-wired and re piped for all the air lines. So basically you can say it's a frame up restoration, with the cost approximately $500,000. This will extend the life of these engines 20+ years or more."
Many of the old SD9s will eventually be leaving the EJ&E in trade for the five SD38-2s coming over from Union RR. Source: Neal
- 10/6/2001 - "New" Power Coming to the J -


It appears the EJ&E is beefing up its roster of road locomotives. There are reports that Utah Railway SD40 units will be arriving any day now and will be kept on a lease. Utah numbers for these units were 9001, 9007 & 9011. The new lease unit marks will be MPEX and then numbered 750, 751 & 752 while working on EJ&E. These units were made available after Utah Ry. received its new MK5000Cs. The loaner SD40s are said to be turbo equipped, which is surprising since the EJ&E has never been big on turbos.
There is also a report that a total of 5 Union Railroad SD38-2s will be showing up before the end of the year. These units were originally on Bessemer & Lake Erie not too long ago, but came over to URR. With the steel slowdown, they apparently don't need them now. The URR will supposedly get J switcher #459 and some other yet to be announced switchers in trade. The original numbers for the SD38-2s while with Bessemer & Lake Erie were; 870, 872, 876, 879 & 890. The URR numbers given to them were; 50, 51, 52, 53 & 54. These 5 SD38-2s are the total that URR has now, so they would be left with none.
The J's SD38-3 rebuild is progressing along, though the #656 is still the only unit to be finished and in the new white stripe scheme. The 668 was recently painted in the white stripe scheme, but it was not rebuilt to -3 standards. Source: Neal
- 10/4/2001 - Naperville Commuter Railway May Head North -


Suburban leaders will soon find out whether there's enough demand to create a commuter rail service between Waukegan to Naperville to the Indiana border.
In November, a consultant will have completed an 18-month study to shed light on how many people might use the commuter line and where future stations might be located along the rail line, which now runs freight service along the Elgin, Joliet and Eastern Railway.
Last month, a task force of local leaders along the EJ&E met in Naperville and elected Hoffman Estates Mayor Bill McLeod and West Chicago Mayor Michael Fortner to co-chair the group's steering committee. In that role, the two will ingest the results of the study and debrief local officials on the findings in an attempt to gain support for the plan.
So far, there are five to six towns that have been identified as potential sites for stations, including West Chicago, Joliet, Chicago Heights and Hoffman Estates, at the 780-acre Prairie Stone Business Park in Hoffman Estates. The park is home to more than a dozen corporations and includes an extension of Northern Illinois University and the 2 million-square-foot headquarters for Sears, Roebuck and Co.
"I think a lot of it would be job-related," said McLeod, about the potential market for riders. "There are people who will travel two hours each day to get to work."
The single EJ&E railroad track currently takes freight trains in a 105-mile arc around Chicago, from Waukegan to Naperville to the Indiana border. The first phase of the study established that the current rail could handle commuter service. Officials are in the second phase, which includes 14 parts. The current part will also look at multiple land-use scenarios at each of the potential stations, allowing town leaders to decide what kinds of development should surround the stations. Source: Daily Herald by Kimbriell Granderson
- 4/24/2001 - USX to Become U.S. Steel Again -

It's been announced by USX, that they will be doing more corporate reorganizing, and splitting off its steel business, and energy business, into two separate groups. USX Marathon Group will become Marathon Oil, and USX will become U.S. Steel again, like it was before changed in 1986. So technically, the J can now be called a "Steel Road" again. Source: USX Press Release
- 3/23/2001 - Transtar, Inc. Becomes Wholly Owned Subsidiary of USX Corporation -


USX-U. S. Steel Group (NYSE: X) announced that, effective today, Transtar, Inc. has become a wholly owned subsidiary of USX Corporation, following completion of the Reorganization and Exchange Agreement announced October 4, 2000.
As a result of this transaction, Transtar's direct subsidiaries -- The Birmingham Southern Railroad Company; the Elgin, Joliet and Eastern Railway Company; The Lake Terminal Railroad Company; the McKeesport Connecting Railroad Company; the Union Railroad Company; the Warrior & Gulf Navigation Company and its subsidiary, the Mobile River Terminal Company, Inc.; and Tracks, Traffic and Management Services, Inc. -- become part of USX Corporation.
Thomas W. Sterling, who was named president of Transtar, Inc. in August 2000, will continue in that position.
The other former Transtar subsidiaries -- the Bessemer and Lake Erie Railroad Company; the Duluth, Missabe and Iron Range Railway Company; The Pittsburgh & Conneaut Dock Company; and USS Great Lakes Fleet, Inc., and their subsidiaries -- will be owned by Great Lakes Transportation LLC, a newly formed affiliate of The Blackstone Group, a New York-based private investment bank. Source: USX Press Release
- 3/21/2001 - Ex B&LE Units Now in Service -

The ex B&LE SD38-2s that recently came to the J, have been fixed up at the Gary Shops, and are now in service on the railroad. The unit that was numbered 877 on B&LE, is now the 670 on the J. The B&LE 658 will retain its number, since that was its original number from when it started on EJ&E to begin with. Both units are still in B&LE black and orange. Neal has already got some good shots of the #670, which you will find on the locomotive page of his photo section.
- 3/21/2001 - Small Fire at West Chicago's Tower -

A small fire broke out in the tower at West Chicago this afternoon. It started in the lever machine and was caused by a cross protection relay. The relay opened and arced across the contacts, starting a small fire. The fire department was called, but it was kept under control. The problem was fixed soon after, and everything is now back to normal.
- 1/26/2001 - "New" Power on the EJ&E -


It's reported that Bessemer & Lake Erie RR is sending over units 877 & 658 to the EJ&E. Both of these units are SD38-2's, and are still in B&LE colors, but they now have "EJ&E" stenciled on the sides. The 658 was originally on EJ&E, but it was sold to B&LE in 1986.
UPDATE: Apparently a new rebuild program has been started with the J's SD38-2's. The first unit (#656) was just completed, and is being painted right now. It was given new traction motors, and a new prime mover. It also has a computer now, and new electronics, which will bring it up to dash 3 standards. The railroad will reportedly rebuild 2 units a year this way, and they will then be designated SD38-3's. Source: Neal
- 1/19/2001 - New Signal Equipment Cut-over Completed -
Signal maintainers were working late Friday night (19th), putting the finishing touches on all the new signal equipment being installed between Joliet and the new Turner Jct., on the Western Sub. Within this section of track, what was once called Coynes, will now be known as Turner Jct., and what was originally the old Rockdale Jct., will now be known as West Bridge Jct.
Turner Jct. is the start of the siding that goes East to Bridge 198. The West Bridge Jct. plant includes a set of crossovers that are midway between Turner and the bridge, and also the switch that goes back to the main just before the bridge. Over the past months, new signals and equipment have been installed along this section of track, along with the installation of a powered switch at the Romeoville Branch that goes to the Will County Generator. This means the section from Joliet to Turner Jct. is now technically CTC. Crews will no longer have to be bothered with aligning the Romeoville Branch switch properly.
While the signal department was still testing Friday night, #802 leading a coal train out of Will Co., was the first train through the new system after it had been cut-over. It was reported that the train no longer needed a warrant to move from the Romeoville Branch, as that is part of the new plant now. This might make it a little harder for people who like to chase the trains to Will Co., but there may still be hints of when trains are coming out to the branch.
Also being cut-over around the same time was the new "paperless train sheet" computer system for the control center. This system creates digital train sheet info based on real time reporting from track circuits, car & train control, and the crew caller. Input can come from the field, the Dispatcher, or even the Monroeville, PA offices. Most work in the field has been completed for this, and final testing and programming is now being done.
- 10/5/2000 - EJ&E is a Steel Road Again! -

TRANSTAR REORGANIZATION: Transtar, Inc. (``Transtar'') announced today that it has entered into a Reorganization and Exchange Agreement with its two voting shareholders, Transtar Holdings, L.P. (``Holdings''), an affiliate of Blackstone Capital Partners L. P., and USX Corporation (``USX''). In this reorganization, Holdings would exchange all of its shares in Transtar for 100% of the ownership of four direct Transtar subsidiaries -- the Bessemer and Lake Erie Railroad Company; the Duluth, Missabe and Iron Range Railway Company; The Pittsburgh & Conneaut Dock Company; and USS Great Lakes Fleet, Inc., and their subsidiaries. As a result of this transaction, USX would become the sole owner of Transtar and its remaining direct subsidiaries -- the Birmingham Southern Railroad Company; the Elgin, Joliet and Eastern Railway Company; The Lake Terminal Railroad Company; the McKeesport Connecting Railroad Company; the Mobile River Terminal Company, Inc.; the Union Railroad Company; the Warrior & Gulf Navigation Company; and Tracks Traffic and Management Services, Inc. and their subsidiaries. This reorganization will allow USX and Holdings to follow their independent strategies for the units they will own. No changes in service will occur as a result of this reorganization Consummation of the reorganization is subject to a number of conditions including approvals by the Surface Transportation Board and antitrust clearances. Source: Transtar, Inc.-Patrick Yough